I'm Going

Green

Over Depression Glass
!
Depression glass
is clear or colored translucent glassware that was distributed free, or at low cost, in the United States and Canada around the time of the Great Depression.
Uranium Glass is a subset of depression glass
Uranium glass
is glass which has had uranium, usually in oxide diuranate form, added to a glass mix before melting for coloration. The proportion usually varies from trace levels to about 2% by weight uranium, although some 20th-century pieces were made with up to 25% uranium. The more uranium in the piece, the more it glows as it emits uranium energy.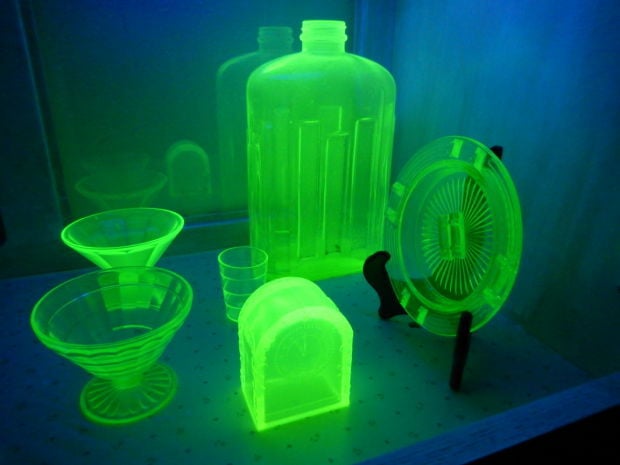 Glassware known as Depression glass contains uranium oxide which is used as a coloring agent and fluoresces when illuminated with a blacklight. (Credit: William Ascarza)
Food manufacturers and distributors, put a piece of glassware in boxes of food, as an incentive to purchase. Movie theaters and businesses would hand out a piece simply for coming in the door.
Most of this glassware was made in the central and mid-west United States, where access to raw materials and power made manufacturing inexpensive in the first half of the twentieth century. More than twenty manufacturers made more than 100 patterns, and entire dinner sets were made in some patterns. Common colors are clear (crystal), pink, pale blue, green, and amber.
Less common colors include yellow (canary), ultramarine, jadeite (opaque pale green), delphite (opaque pale blue), cobalt blue, red (ruby & royal ruby), black, amethyst, monax, and white (milk glass).
Although of marginal quality, Depression glass has been highly collectible since the 1960s. Due to its popularity as a collectible, Depression glass is becoming more scarce on the open market. Rare pieces may sell for several hundred dollars. Some manufacturers continued to make popular patterns after World War II, or introduced similar patterns, which are also collectible.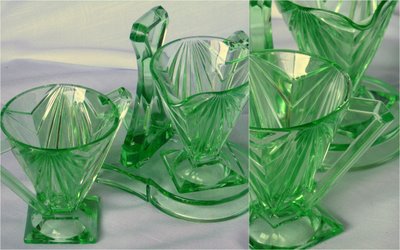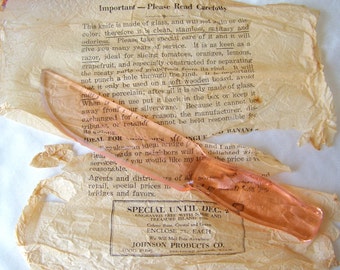 Popular and expensive patterns and pieces have been reproduced, and reproductions are still being made.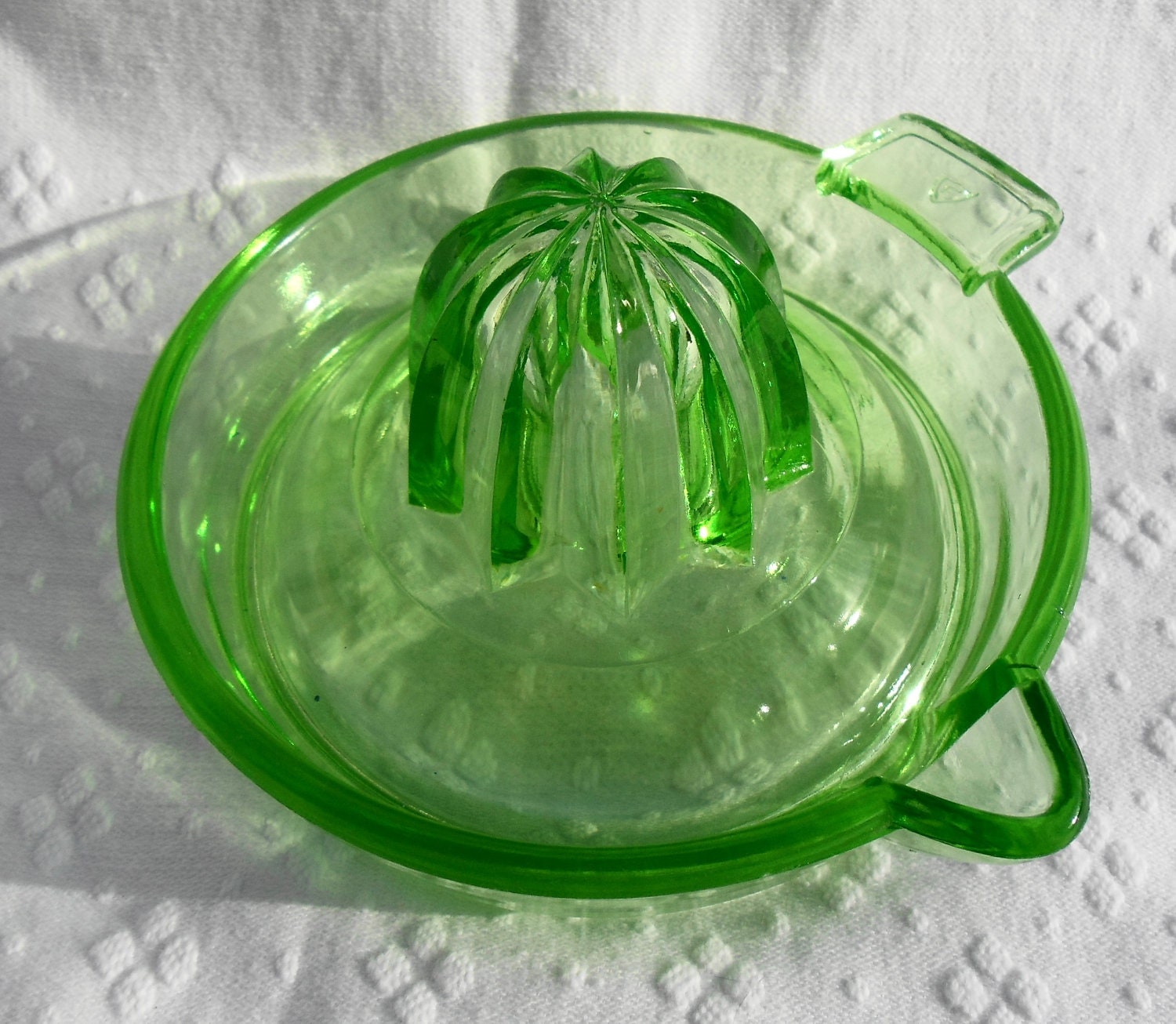 My love and interest in depression glass started over twenty years ago, when a Cabinet full of green at a friend's place caught my eye. Not only the color, but the reflection of light which was refracted by the crosshatching in the pieces.
Depression glass reflects an untold history which many never spoke about, as it bought back sad memories of the hardships experienced during the Great Depression. I think this is enriching as the glass tells a story.
Green Depression Glass Syrup Pitcher, Ribbed
Depression Glass

Green

BEATER TOP PITCHER
Green Depression Glass Reamer /Juicer Measuring Cup
Martha Stewart's Jeitide Collection!
Just after the depression, jadeite glassware began its mass production through the McKee Glass Co. in Pennsylvania. Jadeite was a cheaper alternative to earthenware & it's affordability enabled many households to collect pieces.
There is something about

GREEN

that makes me happy & I hope I have shared this feeling with you!
Just love, love, love

Green

!
L

emon

C

ake

R

ecipe
Welcome to the sunny side of dessert where lemon is the star of this moist cake. Cheery lemon cake is perfect for festive occasions. Top it off with a whipped frosting that's the perfect complement to the lemon cake.
Prep:
Total Time:
Servings:

12
Source:
Everyday Food, May 2009
Ingredients
1 cup (2 sticks) unsalted butter, room temperature, plus more for pans
2 1/2 cups all-purpose flour (spooned and leveled), plus more for pans
1/2 teaspoon baking powder
1/2 teaspoon baking soda
1 teaspoon salt
1 tablespoon lemon zest
2 cups sugar
2 large eggs plus 3 large egg yolks
1/4 cup plus 2 tablespoons fresh lemon juice
1 cup low-fat buttermilk
1 lemon, thinly sliced and seeded
Whipped Frosting
Ingredients
3 large egg whites
3/4 cup sugar
Pinch of salt
1/3 cup water
1/4 teaspoon pure vanilla extract
Directions
Preheat oven to 350 degrees. Butter and flour two 8-by-2-inch cake pans, tapping out excess flour. In a medium bowl, whisk flour, baking powder, baking soda, salt, and lemon zest.

In a large bowl, using an electric mixer, beat butter and 1 1/2 cups sugar until light and fluffy. With mixer on low, beat in eggs and yolks, one at a time. Beat in 2 tablespoons lemon juice. Alternately beat in flour mixture and buttermilk beginning and ending with flour mixture; mix just until combined.




Divide batter between pans; smooth tops. Bake until cakes pull away from sides of pans, 32 to 35 minutes. Let cool in pans 10 minutes. Run a knife around edges of pans and invert cakes onto a wire rack.




While cakes are baking, bring remaining 1/2 cup sugar and 1/2 cup water to a boil in a saucepan. Add lemon slices and simmer 25 minutes. Using a slotted spoon, transfer lemon slices to a waxed-paper-lined plate. Stir remaining 1/4 cup fresh lemon juice into syrup.




Using a toothpick, poke holes in warm cakes on rack. Brush with lemon syrup. Let cool completely. Prepare frosting, substituting 2 tablespoons fresh lemon juice for vanilla extract. Frost cooled cakes and top with candied lemon slices.




Whipped Frosting

Directions

Using an electric mixer, beat on medium-high all frosting ingredients until glossy, stiff peaks form (do not over beat), about 3-4 minutes; reduce speed to low, add vanilla extract, and beat just until combined. Use immediately.

(Martha Stewart)
I hope you have enjoyed this blog as much as I have enjoyed putting it together!
Until next time,
H

appy

B

aking &

C

ollecting!