H

appy

R

etro/

K

itsch

C

hristmas
!
Hi Everyone, It's that exciting time of year - Christmas! I love Christmas from the vintage decorations,carols, smell of Christmas pudding/cake, to having quality time with family & friends. I know it can also be a stressful time of rushing to get everything done on time, but let's try to avoid those feelings and start preparing early if we can and have a relaxing and enjoyable Christmas.
Start now if your are going to make your own Christmas Pudding, mince pies or Christmas cake by soaking your fruit in a large bowl. I like to make my own pudding & mince tarts so I soak enough fruit for both and leave it covered on the bench for a few days & then it's ready to use when I choose. Sometimes I even have it soaking for weeks, stirring occasionally & adding more dried fruit, nuts & alcohol- usually brandy & Grand Marnier or Cointreau.
If you are time poor you can purchase a great plum pudding from Coles which is Heston's Hidden Orange Christmas Pudding- Great quality and very reasonably priced.
C

hristmas

K

nitted

T

ea

C

osy
K

nitted

C

hristmas

D

ecoration
What you need
4mm needles
White & brown 8ply wool
Red wool for Cherry
Instructions
Cast on 40 sts
StSt 10 rows
Row 11
With white k2,k6 brown,k2 white ,k6 brown, k2 white continue in this sequence ending with k6 brown.
Row 12
P3 white, P4 brown, P4 White, P4 Brown, P4 white,P4 Brown
Continue in this sequence ending with P3 white.
Row 13
k4 white, k2 brown,k6 white,k2brown,k6 white,k2 brown,continue in this sequence ending with k4 white
Row 14
P all stitches in white
StSt 6 rows in white
Row 21 (still in white)
k2 tog, k6,k2 tog,k6 cont this sequence till end
Row 22 Purl row
Row 23
k2 tog,k5,k2 tog, k5 cont this sequence till end
Row 24 Purl row
Row 25
k2 tog,k4,k2 tog,k4 cont this sequence till end.
Row 26 Purl row
Row 27
k2 tog, k3,k2 tog, k3 cont this sequence till end.
Row 28 Purl row
Row 29
k2 tog, k2,k2 tog,k2,k2 tog cont this sequence till end.
Make up
Fasten off by threading the yarn through the remaining stitches. Sew the side and stuff draw up the bottom and secure.
Cherry -
Cast on 3 sts in red
Row 1
inc k wise into every stitch (6 sts)
Row 2
Purl row
Row 3
Knit row
Row 4
Purl 2 tog to end (3 sts)
Make up
Thread yarn through stitches draw up and fasten off.
Sew up row edges.
Sew to bun
Holly - Use Green Felt for a more detailed leaf.
D

elightful
V

intage

C

hristmas

O

rnaments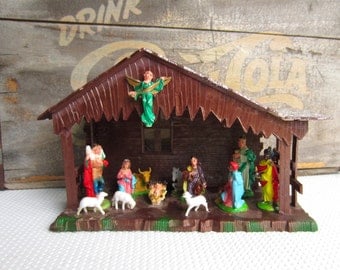 2 oranges zested
1 1/2 cups Icing Sugar
125g butter, softened
50ml Cointreau
M

ethod
Combine & whisk/ beat on high until creamy & smooth. For a thicker consistency add more pure icing sugar
Serve with plum pudding or spread on panettone
If made in advance store in fridge
V

intage

C

hristmas

G

reeting

C

ards
W

ishing

y

ou

a

ll

p

eace &

j

oy

a

t

C

hristmas