Viola is a genus of flowering plants in the violet family Violaceae.
It is the largest genus in the family, containing between 525 and 600 species
Scientific name:
Viola reichenbachiana
Scent:

Unique, sweet, powdery, sublime
I would like to share my love of all things violet
with you,
as I adore their scent, their multitude of colors and their old fashioned goodness!
I hope you enjoy their beauty
and the many ways in which they can be used.
Gorgeous
Vintage Violet Door Stop
SWEET VIOLET
Sweet violet is a herb. The root and parts that grow above the ground are used for medicinal purposes.
Sweet violet has been used for ;
stress

physical and mental exhaustion

symptoms of menopause

depression

irritability

digestive tract complaints

respiratory tract conditions
The scent of violet is truly sublime!
In sunshine or in shadow how rich the loamy soil
light of earth, dream of rebirth greening
lilac buds and bluebells ring
magenta hills, aubretia spring
of burning fire
A mossy path of violets, soft my feet to wander
muscari blue the garden dew
birds to drink of leafy puddles
bluest skies go grey, drifts so swift a rain cloud by
to water quick the daffodil, silk umbrellas yellow
and comes alas the greening grass
robins hopping, weaving
Spring unfurls in flowery births
tiny violets upon the earth
A Heart of Violets!
How Adorable!

How Gorgeous!
Homespun Goodness!

How Clever!
This is on my project list. . .
P

r

e

t

t

y

C

o

l

o

r

s
A Beautiful Low Maintenance
Pot Plant Which Adds A Warm Homespun Feel To A Window Sill
Pretty Planters
What A Great Way To Recycle
The Humble Tea Pot!
The Edible Violet !
Beautiful Macaroons
Yummy Violet Sponge!
Violet Short breads
Violet & Rose Ice Cubes
Violet Butter Frosting
Pretty Violet Cupcakes!
Old Fashioned
Sweet Violet Syrup Recipe
The syrup is great when added to icings and butter cream for cakes; and is wonderful when used in beverages too. Only a small amount is needed to add to sparkling wine or lemonade for a delectable and elegant drink.
Remove all of the stalks, green "peeps" in the middle of the violets and the leaves before putting all of the the flowers into a bowl. Pour the boiling water over the flowers, then cover with a tea towel and allow the violets to infuse overnight or for 24 hours.
Next day, put the violets and water into the bowl that fits on top of the bain-marie, then add the sugar and stir well. Bring the water in the bottom of the bain-marie to a rolling boil and then place the bowl with the violets over the boiling water; keep stirring the violet mixture until the sugar has completely dissolved. If you don't have a bain-marie, place a suitable sized sauce pan on top of larger pan with water underneath and proceed as before.
Strain the violet mixture through a fine sieve, then bottle and label the syrup and keep in a cool place, or the fridge for up to 12 months. Use in cakes, scones, pancakes, icings, butter creams, ice creams, biscuits, beverages, cream puddings, custards, cakes etc.
Violet
Meringues!
Then bake in a 120*C oven for half an hour until the outside is nice and crispy, then turn the oven off and let them cool down inside it to dry out without humidity
Violet

Jelly

2 cups packed violet blossoms, stems removed
2 cups boiling water

1. Pour the boiling water over the violets and allow them to steep at least 2 hours, overnight is best. Squeeze the water from the violets, and measure out 1 3/4 cups violet infusion. It will be very dark blue.

1 3/4 cups violet infusion
1/4 cup lemon juice
4 cups. sugar
Pectin (3 oz.)


2. Put the violet infusion, lemon juice, and sugar in a large pot. Bring it up to a rolling boil.
3. Add the pectin, and bring the mixture back up to a rolling boil for 2 minutes, stirring constantly.
3. Remove the jelly from the heat and ladle into hot, sterilised jars. Cover, and process in a water bath for 10 minutes.
Violet

Sugar
A delightful old-fashioned floral sugar that is wonderful when added to cakes, biscuits, desserts, custards, ice creams as well as home-made chocolates and sweets.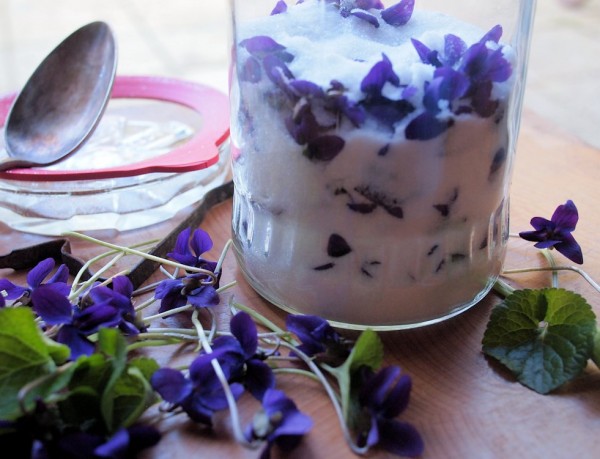 Directions
| | |
| --- | --- |
| | Take a clean, sterile jar and layer the fresh violets in the jar with alternating layers of caster sugar. |
| | Seal and allow to infuse for a week, in a dark cool place. |
| | After a week the sugar can be used in cakes, bakes, desserts, ice creams etc, The violets can be left in for a stronger flavour; sieve the sugar before using. |
African Violets
Caring for African Violets
Plant details
Pretty Violets


Violet Goodness!