T

a

s

t

e

f

u

l
C

hristmas Gifts

F

rom

T

he

H

eart

!
Rosemary & Garlic Infused Olive Oil
Ingredients :
4- 5
sprigs fresh

rosemary
3 - 4 cloves of Garlic
2 cups olive oil
Directions :
Wash the rosemary sprigs and dry them completely.
Pour the oil in a saucepan and heat. It should take about 2 minutes. Make sure that you do not boil it.
Now add the crushed garlic or minced garlic and let it cook for about 2 to 3 minutes on medium heat,
Switch off the heat and add rosemary to the oil.
Let it cool completely.
Use a clean dry bottle to store the oil . You can either strain the oil or leave the herbs in. It's extremely important to discard the garlic.
You need to refrigerate this infused oil.
Home Made Cedarwood, Rosemary & Mint Shaving Cream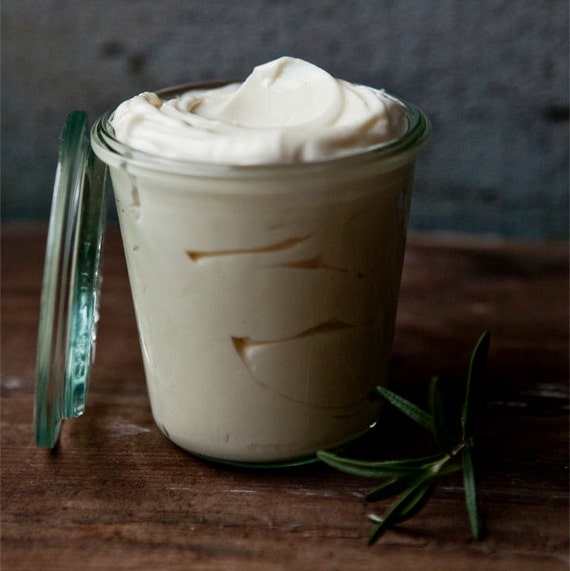 Ingredients
½ cup coconut oil
½ cup #Shea butter
1 cup almond oil
30 drops
Virginian Cedarwood essential oil
15 drops rosemary essential oil
15 drops
Spearmint essential oil
2 teaspoons of baking soda
In a double boiler, slowly melt the coconut oil and Shea butter over low heat, stirring occasionally. Remove the melted mixture from the stove and let cool for ten minutes. After the liquid has cooled a bit, mix in your almond oil and essential oils, then put it in the refrigerator to cool. This part is important-you want to make sure the mixture cools to a solid before you take it out of the fridge. Once it's solid, take it out again (it should have the consistency of butter) and let it melt a little bit.
Put the mixture into a stand mixer (or whip using a hand mixer), whipping until the cream is nice and fluffy. If you didn't cool the mixture to a solid first, it won't whip up to a fluffy consistency!
Transfer into a jar of your choice and store in a cool, dry place. The shaving cream should have a shelf life of up to 3 months as long as water doesn't contaminate it.
#Shea Butter is perfect for nourishing and protecting the skin.
Shea Butter is important for improving a number of skin conditions including blemishes wrinkles, eczema, and dermatitis.
It is sourced from Africa from the nuts of the Shea-Karite tree.
Lavender & Rose White Chocolate Rocky Road
1-2tsp fresh lavender
400g Turkish delight
500g white chocolate
1 cup toasted pastachio kernals
1cup dried cranberries
200g white/pink marshmallows
1/2 cup freeze dried strawberries
Extra white chocolate may be required to combine ingredients
2. Combine all other ingredients in a large bowl
3. Pour melted chocolate over ingredients & stir to coat all
4. Spoon mixture into a loaf tin
6. Cut into 1-1 1/2inch slices
7. Wrap in baking paper & tie a pretty ribbon around it & you have a lovely gift
Wishing everyone a wonderful Christmas & a safe, happy & healthy 2016!